37% of Americans Believe Jack Bauer is Real - February 20th 2005
In a recent poll surveying public feeling towards national security it was discovered that over 58% of Americans felt they were under no danger whatsoever and that should any terrorist actions threaten their country again that they would be saved just in time. Whilst the results were initially a little bit puzzling, the following investigation revealed why this was the case:

37% of Americans stated that they trusted the abilities of CTU agent Jack Bauer to step in and intervene before the terrorists were able to carry out their actions. 14% of those surveyed stated they believed that whilst the terrorists would be successful, the Enterprise would then come back in time to prevent it from happening. Most surprisingly, however, were the remaining 7% who said they thought all the terrorist attacks in the last 5 years were just a new cable show on Fox.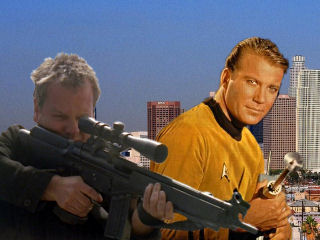 5% of Americans surveyed said that if Kirk and Bauer worked together, no evil could prove unstoppable.
Government spokespeople reported that they were shocked at how safe Americans felt:

"It kinda shocked us," Chuck Hankman reported, "I mean, we were busy looking into scrapping the Green and Blue terror alert levels. We're never going to use them as its never going to get that safe."

When commenting on the results of the poll, Hankman stated there were many holes in the public's logic. He explained, first of all, that the Star Trek fans who had faith in Captain Kirk were misguided.

"Even forgetting about the Temporal Prime Directive, it just couldn't happen. If the Enterprise stopped a terrorist attack that happened in their time line it would create a paradox as they would return to timeline where it didn't happen. Whilst you may quote episodes where they did change the past, those sorts of circumstances require the skills of huge writing teams to pull off, and that isn't evident in this suggestion."

As for the suggestion that Jack Bauer would save the day, Chuck was even less patient:

"This is even more ridiculous... Jack Bauer is a fictional character from the TV series 24. He won't come barging in to save the day... where was he on September 11th? On vacation? No, that's your fictional TV series... not the terrorist attacks going on around the world.

"Besides, evidence has shown that 97% of terrorist attacks take at least 3 days to unfold, that leaves Jack Bauer 48 hours short."