Real New Yorkers Concerned that Fictional New York will be Destroyed if Jack Bauer Fails - May 11th 2005
Residents of New York City have expressed their fears that fictional Federal Agent, Jack Bauer, may not be able to save their city from destruction. The current season of the popular real-time action drama has seen Agent Bauer combat more threats in a single 24 hour period than any previous season, and still has 3 hours left to go. With the range of threats including the kidnapping of the Secretary of Defence to the shooting down of Air Force One, residents of New York as justifiably concerned they could be next.

"To be honest, this Habib Marwan has proven particularly cunning and evil," resident New Yorker Keith Wilson explained, "I wouldn't put it past him to try and blow up NYC with a nuclear warhead."

In most television dramas, the general world picture remains unchanged throughout a season – however Fox's 24 is renowned for being different. Major characters have the ability to die, and the producers are not worried about allowing the terrorists to partially succeed – after all Air Force One was shot down in Season 4, and the nuclear warhead did go off in Season 2 – albeit in the middle of a desert.

This has led many people to wonder whether Fox would be prepared to let the terrorists actually succeed in destroying a major city. Many believe that if the network did, it would have negative impact on the show's ratings.

"If Fox allow Marwan to blow up NYC there are going to be a whole load of real angry New Yorkers," Wilson explained, "I doubt they'll be wanting to watch the show anymore. I mean, Fox is effectively saying they are all now dead. Who on earth wants to watch a show that your fictional self has just died in?"

Whilst New York City has not been confirmed as a possible target many believe that it is the logical target for the evil mastermind, and if Wilson's opinions are reflective of the general population Fox would be effectively cutting off a potential 20 million viewers, which would have disastrous consequences in the show's marketability.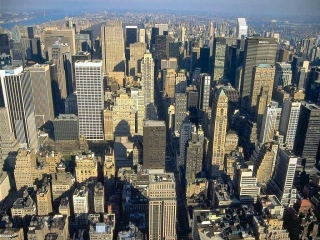 95% of New Yorkers say they would be concerned if their city was attacked with nuclear bomb.
Wilson did concede that the events of 24 are meant to be taking place 6 years in the future – in the year 2010 – and if New York is destroyed he will be moving to an unaffected city well before the attack is meant to take place.

"Yeah, I'll move away if NYC is leveled. And probably out of the country to. Before 24 showed us it was just LA that was dangerous but the past two seasons have had real serious implications for the entire country. I was considering Canada, but then I thought it's a little close if a suicide bomber jumps on the wrong plane and ends up exploding a 747 over Toronto. I think I'll move to Paris, no one ever attacks France.

"However, even if I do move from NYC I would like them to acknowledge I am still alive on screen. They could show a quick flash of me typing on Fox's 24 forum, just to show me that my life is unchanged."