George Bush Finally Submits to Torture Ban - December 15th 2005
President Bush has finally announced that he gives his full support to new legislation that outlaws the use of torture on Terrorist suspects. The ban comes after weeks of speculation concerning CIA activity in the European Union, as well as the controversy of the American Detainment Facility, Camp X-Ray.

"It seems we've finally exhausted every method of torture known to man," George Bush explained, defending his position, "For four years now we've electrified, burned and sleep deprived hundreds of suspects and we've finally run out of ideas. As a result, it's a little bit pointless to keep the torture option legal, because it really pisses off the liberals and I have loads more hate mail to sift through."

President Bush went on to explain that they had almost run out of ideas for torturing their suspects a couple of years ago, however during a smoke break one of the prison officers tuned in to Fox's action TV series – 24 – and they soon picked up a whole load of new tricks.

"Jack Bauer was wrong," one prison guard explained to us, "The longest you survive after pulling the towel out of someone's stomach is 5 days. In fact, most died after 3 – I don't know why he claimed it lasted a week."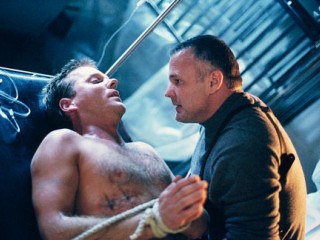 Would you confess to being part of a terrorist if someone took a soldering iron to your genitals?
Despite finally outlawing torture, George Bush refused to accept that torture was a flawed method of information extraction claiming that it had averted many terrorist attacks against the United States:

"Just last August, one of our original detainees from 9/11 admitted to be part of a strike being planned this October - against the Sears Towers with a giant air ship filled with Hydrogen. The torture was so effective against him that the terrorists didn't even try to carry it out. They didn't even turn up!"

At the end of the conference one reporter asked, in reference to the statement about 24, whether the guards at Camp X-Ray had been following Lost. When it was revealed they hadn't, the reporter asked whether they had tried the bamboo-shoots-up-fingernails method used by Sayid against Sawyer. President Bush appeared to indicate that particular method had not been used, but pointed out it would be "at least a couple of weeks" before the new laws took effect.