Jack Bauer Shoots Down the Starship Enterprise - March 3rd 2006
Following an episode of Fox's 24 that featured Jack Bauer shooting down a helicopter armed only with a hand gun, the show's producers faced criticism from fans and TV critics alike that this action was probably pushing the boundaries of plausibility of the popular action hero's capabilities.

"Ok, I'm not saying it's entirely impossible to shoot down a helicopter with a handgun," 24 fan Chuck Hankman informed the world on his blog, "But the helicopter dude was showering the area with bullets from a giant machine gun. There's no way Jack could have had time to get a clear and accurate shot without being ripped to pieces."

The shows producers released a statement saying that the fan's criticism of them was entirely unjustified. They explained that if they thought they knew what Jack Bauer was capable of from just watching the first 4 and a half seasons they were wrong, what he had done in the past was only a fraction of what they were going to see in the next 14, most explosive, most exciting, most fast paced, most shocking, most critical, biggest, most explosive and most explosive episodes of 24 ever broadcast.

"Jack shooting down the helicopter was just a warm up to whet everyone's appetites!" Official Fox Spokesperson Keith Wilson explained, "I mean, what protection does a mortal helicopter have against Jack Bauer? I'm fairly certain that a helicopter would be killed by a nuclear bomb, Jack wasn't though. In fact, he's survived two."

Keith Wilson then went on to show us the latest production still to be released to the public – clearly showing Jack Bauer shooting down the Starship Enterprise.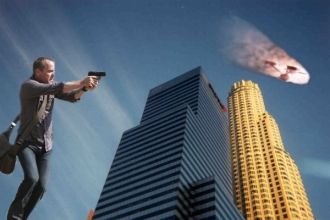 Although the Enterprise was not a direct risk to the safety of Los Angeles, Jack Bauer couldn't take the chance that an American Mega-Corporation would sell it to terrorists to obtain crucial oil contracts in the Middle East or Asia
"You see," he said, "Jack is capable of anything. They thought they were safe with their forcefields and the fact they are 300 years in the future – but you can rely on Jack to find ways of getting around trivialities like that. They made a crucial mistake – you must never underestimate Jack."