About Random Perspective Comic
Random Perspective Comic is a web comic that focuses mainly on tech/geek related humour.
Who is it by?
All comics are written and drawn by me, Ben Dickson. I originally created Random Perspective in 2002 as a website to publish news satire on. While I do this less frequently now - well spasmodically - as the Internet has evolved I've taken to other forms of publication, including parody Twitter accounts such as HAL9000 and AppleNav.
Can I use/repost your comics?
You are free to post the comics on your personal blog, or social media account so long as you do not modify the comic in anyway other than resizing it. You are not permitted to crop the images and the url must remain.You are not permitted to add your own watermark, text, logo or other graphics to the comic.
For non-profit organisations, again it is fine. For any other organisations, please email me here - I'll almost certainly say yes.
Under any circumstances of the comic being shared, I retain the copyright and ownership of it.
If you do rescale, a high resolution version of each comic can be obtained by clicking on it which will yield better results than scaling the embedded in each page.
If you post on Twitter, Facebook, or Tumblr, please be aware I have accounts for those social media websites, and post the comics on them as soon as they are made live on my website, so I would prefer - if possible - that you retweet, share or reblog those posts. This isn't a necessity, and you are free to post them independently, however if you do share my original post it helps me build up awareness of the comic, thus building the audience, which is mutually beneficial for anyone who enjoys the comics.
I provide these comics online, to be enjoyed free of charge without the visual clutter of advertisement or DRM as I feel that is the best way of maximising enjoyment of them. However, just because you are free to enjoy them does not mean I am "giving them away" - all ownership of them, and the characters created in the comic strip, belong to me.
The comic will often reference or depict characters famous in geek pop culture for the sake of parody. These characters do not belong to me and the references/depiction of them is covered under Fair Use and other equivalent laws.
How do you make the comics?
I started drawing the comics after buying a Samsung Galaxy Note 2. I originally drew all the comics on it using Sketchbook Mobile. Unfortunately the makers of the app, Autodesk don't allow the professional version of the app to run on the Note 2, despite the device being more than powerful enough to run it, meaning the capabilities are somewhat limited and many of the more useful features (such as larger canvases) unavailable.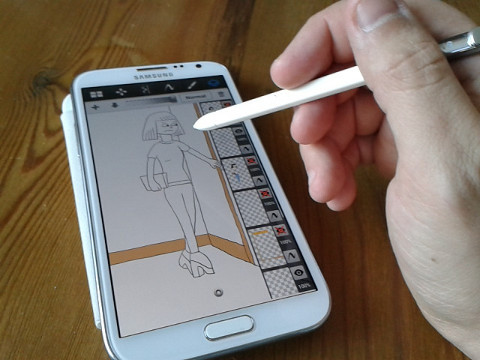 After briefly trying Procreate on my iPad 2, I later moved on to using the Android app Clover Paint which was vastly superior to Sketchbook Mobile, allowing for control over the brush dynamics and the ability to create more advanced custom brushes, and most importantly, allowing any canvas size and as many layers as the memory could handle (something I never hit). If you are drawing on a Galaxy Note device I strongly recommend this app. It's not got the prettiest UI, it has a very steep learning curve but it is very very powerful, almost as powerful as full desktop drawing applications.
However, the Microsoft Surface Pro was the device I wanted, having had my eye on it after reading Penny Arcade's Surface Pro Review. So, in the Christmas 2013 sales, I treated myself to a Surface Pro 2 which I have now moved my production to. It's an amazing device for drawing on, and I now produce my comics on its exclusively, using GIMP. Due to the powerful performance of the device I now draw them at double the resolution before and with the power of a full desktop application and powerful CPU, it can only mean the quality of my work will increase dramatically as I become more used to using the device.