Santa Unveils Drone Fleet To Revolutionize Christmas Present Delivery in 2013 - December 24th 2013
The impossible question that arises every Christmas finally has been answered today as global business tycoon "Santa Claus" unveiled that starting from this year all of his presents will be delivered by advanced, automated, long distance quadcopter drones that will traverse the globe from his depots in the North Pole, Lap Land and Pluto.

Mr Claus was extremely enthusiastic to demonstrate the new technology saying it finally put to bed the idle speculation by so called scientists who have long claimed that his famed annual delivery trip where he dispatches presents to every child on Earth was not possible according to the laws of physics.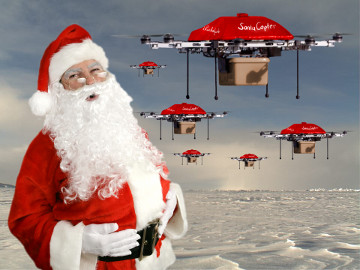 Despite now being able to run his operation from the comfort of his own bed wearing a pair of old underpants, Santa still insists on putting on the full uniform on Christmas Eve.
The quadcopters replace his previous delivery model where he would single handedly deliver presents starting in the East and ending in the West via a flying sleigh pulled by flying reindeer, landing on each roof, climbing down the chimney, depositing gifts into stockings, drinking a glass of alcoholic beverage and consuming food left for him by each household.

"The truth is I was exhausted by the end of the night," Mr Claus explained, "And to be honest by the time I had finished in Japan I was already well over the legal limit, and that was before I drank what the Australians had put out for me.

"Also it was a health and safety nightmare. I mean, climbing down the chimney. There's a reason they used to use kids to clean chimneys rather than fat elderly men. And the number of houses without chimneys. Evading the police for breaking and entering isn't as easy the older I get.

"The delivery drones put an end to that. No more physics defying, reverse time dilation long nighters for me, this year I just sit back while 3 billion drones just fly out and drop off the presents at each child's house."

The drones have not gone down well with everyone, with a number of Santa's employees looking to lose their jobs right before Christmas. Their Union spokeperson, Rudolph T. Reindeer, expressed his discontent with the board's decision to roll out the new technology.

"Reindeer have been doing this job for centuries, we are proven with a reliable track record. What percentage of these three billion drones are going to get lost, shot down by BB guns or travel back in time to kill Sarah Connor?"

The Union is not the only organisation to have concerns with Mr Claus's new business plan, experts have long had concerns with the financial operation. Leading economist Keith Wilson explained the problems:

"Mr Claus's operation is based on a naughty or nice based transactions. Children with a nice surplus get presents. The problem with this is that naughty and nice are abstract entities with no real, tangible existence in reality. It's jus like trading in Bitcoins.

"Or money."