Fishla announce World's first humanoid Robot Chef - August 24th 2021
Fishla, the World's leading Fish and Chips shop, unveiled its latest top secret project - a fully autonomous, self walking, robot chef: the Chippibot. While presently non-existent, when created the robot chef will be able to perform all the tasks presently done by humans in a typical Fish and Chips shop.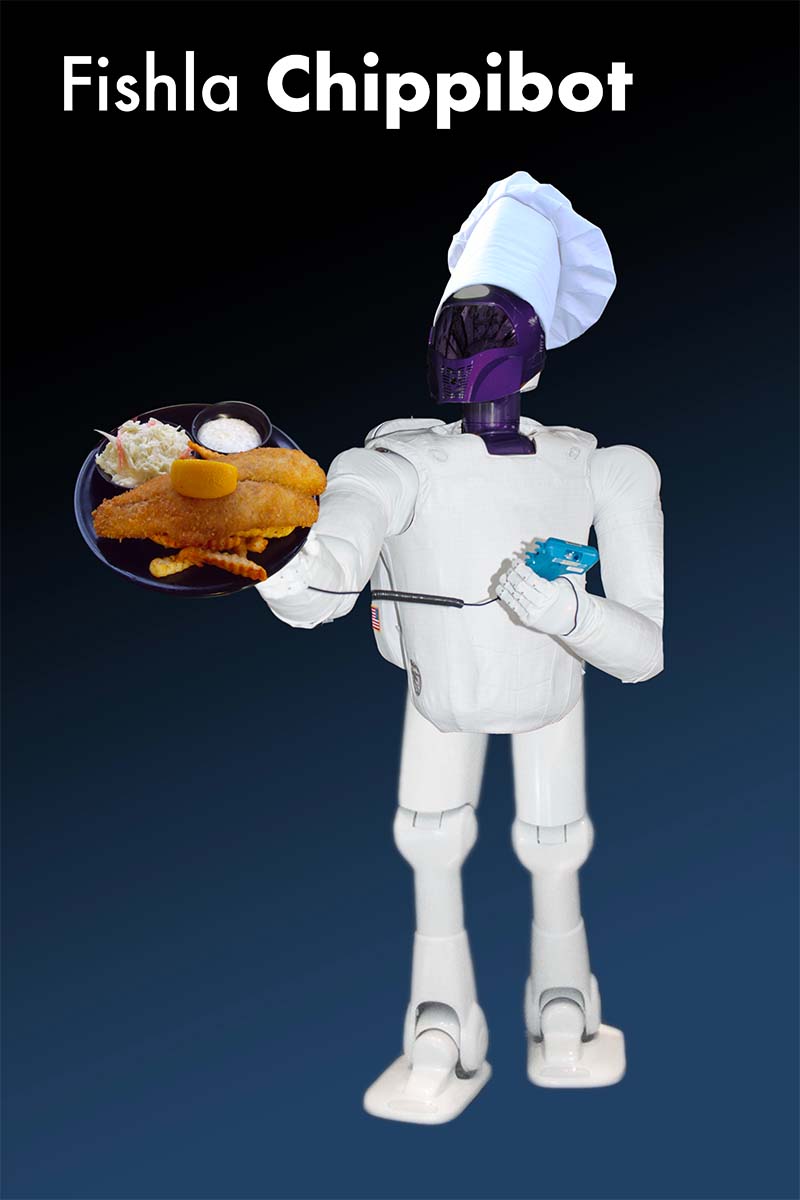 Fishla have promised to limit the Chippibot to a maximum speed of 1mph so regular chipshop customers have a 50/50 chance of outrunning it.
"It was only a matter of time before someone developed a robot chef," Fishla CEO Heddock Stanch explained - despite no robot chefs having actually been developed anywhere in the world yet, "So quite frankly, as the world leaders in Fish and Chips it made sense for Fishla to be the company to take the lead."

The unveiling happened at Fishla's annual Fish and Chips conference, where they routinely unveil their latest advancements in fish battering and chip frying technology. Usually watched by industry experts, this year the conference made international headlines with pictures of the Chippibot plastered over every tech YouTubers' channel.

Due to the real Chippibot's lack of existence, the photos were actually of one of Stanch's regular employees just dressed up in a robot suit, which actually inhibited their ability to cook Fish and Chips, however as they looked very similar to how a people imagined a futuristic robot chef would look like, this was not a concern.

"It's very important that people remember that we serve the best Fish and Chips" Mr Stanch continued "No one makes Fish and Chips as good as we do. So even without Chippibot, ours will continue to be the best. But once Chippibot goes into production, they will still get our excellent Fish and Chips, but it will have the added benefit that it was made by Chippibot."

When pressed for a release date, Heddoch vaguely responded that we may see the first prototypes of Chippibot released later next year, however some critics pointed out that his other company, Sea-Z, had promised it would take a group of people for a boat ride around the Orkney islands 'next year' back in 2017, and that still showed no signs of happening yet.

"The Orkney Islands trip is going to happen eventually," Stanch confirmed, "But the important thing is that all the press reported it and that meant my company got lots of investment to help make it happen."

"Anyway, we are already working on a version of Chippibot that will also have rocket boosters in its feet so it can fly around like Ironman" he quickly segwayed, "My mother always told me, why reach for the sky when you can aim for the moon?"

"To that I say, why aim for the moon when you roughly know where Mars is?"