Nokia To Release World's Smallest Cell Phone - October 1st 2003
The cellular phone manufacturer, Nokia, has today revealed the latest model to be added to its extensive range. The 0.3710 will be the smallest-ever cellular phone available commercially measuring just 17mm by 12mm and weighing 9g. Experts agree the phone is likely to become an instant success.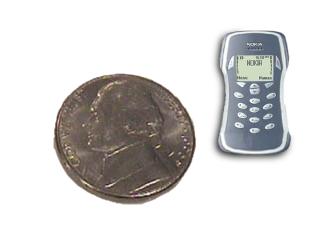 The Nokia 0.3710 will measure 17mm by 12mm making it smaller than most units of currency.
Although devoid of any typical features, the 0.3710 is likely to appeal to users with its unique special features relating to its incredibly tiny size including its ability to be recognised as a small coin in vending machines for many international currencies, its ability to get lost in far more inconvenient places than the back of the sofa and the ability to swallow it in emergencies to prevent a mugger from stealing it.

Critics were quick to point out that the phone had several drawbacks, with a battery life of just 15 minute, or 37 seconds talk time. Also, the buttons are so small they have to be pressed with a pin or cocktail stick to avoid users hitting 5 or 6 buttons at once.

Despite these drawbacks, Nokia insist their market research has shown that there is a market for small cellular phones, highlighting the success of their previous compact designs, including the fashionable 8210 and 8310. However, those phones were significantly larger than the 0.3710 and despite their small size were still practical for most users.

Whether users are ready for a phone they store with their loose change will be determined when the phone goes on general release early next year.