NASA Loses $2.6 Million Deposit - March 10th 2011
U.S. astronauts Daniel Bursch and Carl Waltz have some explaining to do. In a recent letter submitted to NASA from the United Nations claim the astronauts left the space station in an "unlivable condition." The letter outlines in detail, insufficiencies in the orbiting craft that were the direct results of "misuse" of international space station equipment and premises in accordance with the International Space Station and Countries Unified Agreement Act signed in May of 1995.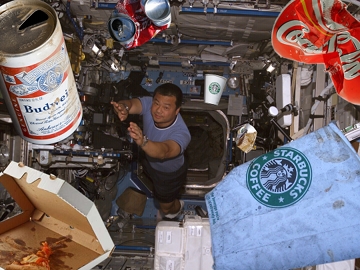 UN Officials were shocked to discover the state that NASA had left the International Space Station in.
"This document is very specific", says Kevin Price spokesman for NASA who agreed to speak to us about this matter. "It speaks about the proper use of the International Space Station and we (NASA) feel these charges will not stand up in the international community." Price likens the $2.6 million dollars to a deposit, "Every time an astronaut is placed on the station we submit $5 million to ISSCUAA to hold and return upon completion of a station mission." Price continues "ISSCUAA is refusing to return $2.6 million stating that the funds will be used to "clean-up" the station and return it to its "original state."

A worker for the ISSCUAA spoke to us on terms of anonymity and confirmed the deposit and alleged the crew used the station for their own personal entertainment leaving it in shambles. Our source stated the windows were not cleaned, there was a spot on the carpet that slightly resembled a pet stain, hairs were found on the suction toilet and the space suits needed to be aired out to remove residual bowel odor. There was also the matter of depletion of supplies; our source is curious how two astronauts could use up 30 boxes of Kleenex in such a short period of time. We will continue to track this story and keep the public notified as it unfolds.


Story written by Bill Doty.