Lewis Hamilton's 'Giant Balls' Key to his Superior Driving Ability - May 8th 2010
British Tabloids revealed today that Lewis Hamilton's overtaking ability is down to his greater leg strength over other drivers. It means he can apply more force to his brake pedal, thus braking later, enabling him to pass his competitors more easily. However, the connection between Hamilton's superior pace and his physical condition is not limited to his leg strength; Random Perspective has learned that the British Formula 1 driver's supreme driving talent is also down to his giant balls.

"It is no surprise to me that Lewis Hamilton has giant balls," Racing Car designer Keith Wilson told us, "Having seen him extract so much more lap time out of his car versus other race drivers, it was clear his car must have had a lower centre of gravity. And the only way to achieve that without infringing the technical regulations would be down to a pair of super sized gonads.

"Or maybe a huge butt," he added, "But I don't think he'd be able to get in and out of the car with the required butt mass."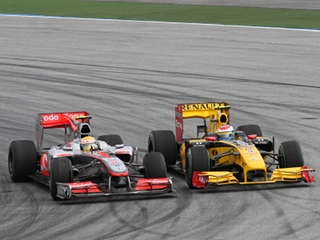 Although many commentators often describe Lewis Hamilton as giving a "Balls-out" drive, this would be be in breach of regulations as they would constitute a moveable aerodynamic device.
While there has been no official confirmation from Lewis Hamilton or McLaren regarding the dimensions of his testes, Wilson calculated that for every 1/10th of a second lap time advantage over a competitor a driver would need their genitals to weigh approximate a 250 grams more. Given that Hamilton routinely sees a 4/10th of a second margin on his team mate this means he is probably endowed to the degree of more than a kilogram over other F1 drivers.

"And as the commentators routinely say, Formula One drivers have massive balls anyway. So Lewis's must be really really massive."

With his advantage in out braking his opponents into overtaking zones and his superior centre of gravity, his rivals will no doubt be very concerned about the implications this has given the technical developments of the current season:

"Where the rivals are going to really watch out is how this relates to McLaren's F-Duct," Wilson continued, "The F-Duct is a pipe in the cockpit the driver blocks off with his knee when driving down the straights to give them an aerodynamic advantage. But it is limited by the small surface area that the knee is able to affect.

"I would not be surprised if McLaren are working on some kind of Super F-Duct now. I imagine the designers are really excited now they have got Hamilton's giant balls to play with."