Leaked Government Document causes Outrage - January 21st 2003
Today, a leaked government document revealed a disturbing new threat to the safety of the United Kingdom. It has been suggested that Saddam Hussein has gained control of another group of loyal, hardworking people, and is manipulating for his own advantage.

Both the Conservatives and Labour parties have hit out at the recent firefighters strike, and with the Armed Forces leaving for war in Iraq it could leave Britain with little, or no, fire fighting cover. It has been suggested, by internal government sources, that this situation is the direct result of Saddam Hussein's "evil" actions.

"Some people will be ignorant enough to suggest that we don't have to send the troops over to Iraq" The document stated, "But we do. What else are we expected to do? Trust a non Western Country to behave itself? They don't understand the reality of the situation."

The report went on to suggest another startling, and very controversial idea. It has suggested that Saddam Hussein himself is operating inside the United Kingdom.

"The public have all seen the videos" the report continued, "And because they've seen them they are convinced Saddam Hussein is still in Iraq. But what are these videos actually showing? Saddam Hussein sitting at a table. Saddam Hussein shaking some unknown person's hand. It's probably an unknown person because the films 10 years old and that person's now dead."


But the controversy of this suggestion came from who they believed Saddam Hussein was posing as:
"Andy Gilchrist" was typed on the report in bold letters. Beneath that came the explanation: "Don't be fooled by the lack of moustache. Modern cosmetic surgery is at a very sophifisticated level these days."

To back up it's claim, the report showed 3 photographs showing the transistion from Saddam Hussein to Andy Gilchrist: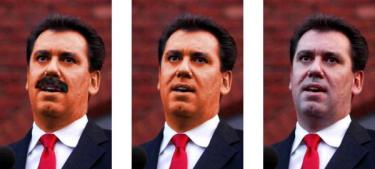 A leaked Government report has suggested the possibility that Andy Gilchrist is really Saddam Hussein
Since the leaking of the report, all knowledge of it has been denied and the controversial theory has been described as 'highly dubious' and something best left to 'the conspiracy theorists.'


Special Disclaimer: This article is completely fake and under no circumstances should you believe that Andy Gilchrist and Saddam Hussein are the same person or share linked motives.