Tories to Replace Iain Duncan Smith with a Dalek - October 9th 2003
Following weeks of speculation and denial by various Tory MPs it has emerged that Tory back benchers are indeed pushing for a leadership challenge with the intention of replacing Iain Duncan Smith. The current Tory leader is criticised for being far too 'nice' and many believe he does not have the teeth for front line politics.

However, despite the inevitability that a leadership contest would arise, few would have predicted the candidate selected to challenge Mr Duncan Smith. Running against him is one of British TV's greatest icons – Dr Who's most famous nemesis, the Daleks.

Or one of them rather: Following Arnold Schwarzenegger's success in the California Governor Elections it seems the Tory party believe that a Dalek is most likely to emulate the remarkable victory over here.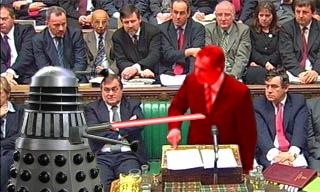 Unlike Iain Duncan Smith, a Dalek would take no shit from Tony Blair
"There are certainly advantages to having a Dalek in power, not just as leader of the Conservative Party, but also as Prime Minister of the United Kingdom." One of the back benchers supporting the leadership contest revealed to us, "I mean, how many UN resolutions do you think we would get passed in our favour? All the veto countries would be sitting their too scared to use it in case their block sends him into a diplomat killing frenzy."

Critics of the plan have pointed out that the reason people voted for Arnold Scwarzenegger in the California Governor Elections was not because of his appearances as indestructible cyborgs but because of the man behind the roles. As the 'man' behind the Dalek is a jelly like creature called a Kaled experts do not believe that this is the sort of creature the British public would want representing them.

"Indeed," One long time Tory voter remarked, "It is French, not the British, who are spineless."