Bush Blames Increase in Multiheaded Animals on Gay Marriages - November 15th 2004
Following the discovery of a two headed turtle in Great Britain, President Bush has spoken out against Gay Marriages once again, claiming that they are to blame for the sudden increase in multiheaded animals making the headlines in the news.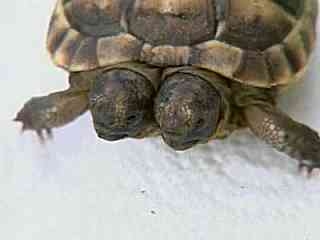 A 2 headed turtle born in Great Britain has attracted a lot of world wide attention
"I am in no doubt," he stated to the assembled press, "That Gay Marriages are to blame for the appearance of abhorrent multiheaded creatures in an otherwise perfect nature Just as God intended men to marry women, he intended creatures to only have one head. And that argument, people, is logicfiably sound."

The President immediately assigned a task force to analyse the data, and to come up with strategies to prevent the existence of multiheaded creatures happening again. The scientists immediately analysed the data from the two cases to make the headlines in 2004 and discovered they have both taken place in Great Britain.

After a phone call with the President, Prime Minister Tony Blair made a televised announcement to the nation, urging Britons to stand 'shoulder to shoulder' with America. He explained that it was impossible for two headed creatures to do this properly as they only had one shoulder per head. As for creatures with three heads or more Mr Blair explained he couldn't get his head around the logistics of head-shoulder ownership in those cases.

Critics of Mr Bush claim that 2 headed turtles are not uncommon in nature, it is just they rarely live longer than a year and before the advent of 24 hour news channels and the Internet they rarely made the news because there was normally more important things to broadcast – such as Vietnam and the death of Princess Diana.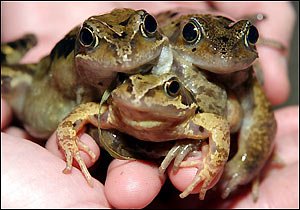 The Three Headed Frog. For the French, a meal in itself.
Mr Bush dismissed the criticisms asking what was next:

"Who knows what could be next. At the moment we've just seen three headed frogs and two headed turtles. What about a 4 headed alligator, it would only take one mauled American family, or 5 mauled European ones, to seriously damage Florida's reputation as a credible tourist attraction. I mean, we've only just managed to undo the damage caused to it by Disneyland."

Researchers though were quick to undermine Mr Bush's theories. Professor Chuck Hankman was quick to correct the President:

"Whatever Mr Bush may think, it would take our best geneticists decades to create a 4 headed alligator. And as for the gay connection, that turtle is the product of a heterosexual relationship, or a perhaps a fourway tortoise orgy."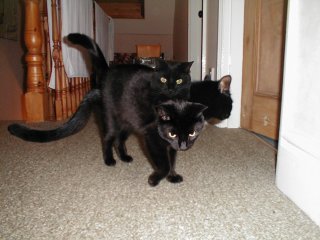 Scientists have explained it could be sometime before three headed pets are a common feature in petshops.