Marlboro Cancels 'Kiddarettes' Programme - January 12th 2005
The cigarette manufacturer Marlboro has cancelled development into its highly controversial 'Kiddarettes' program which it had intended to launch later this year. The program, which had intended to produce and market a range of cigarettes specifically aimed at children, was axed following 'potential health concerns' over the product's effect on their customers.

The cancellation comes only days after a mobile phone aimed for 4-8 year olds was withdrawn from the market, also for health concerns. The research group responsible for the withdrawal had similar reservations towards a range of cigarettes aimed a children.

"Children should only use cigarettes when absolutely necessary." Researcher Keith Wilson explained, "Although we are struggling to come up with a list of circumstances when cigarettes are actually necessary."

The Kiddarettes range, MyCig, was expected to be a huge success with Marlboro predicting initial profits of over $250million. Whilst they appreciated that it was illegal in most countries for children to buy cigarettes, the colourful packaging was designed in such a way it would make the product so exciting most parents would not be able to resist their kids demands that they get it.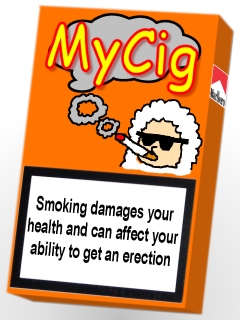 An example of how the MyCig packaging would look in the United Kingdom, with the mandatory health warning. Marlboro believes this will not put children off, as having a geniune health warning will 'make them feel like grown ups'
"The fact remains most parents buy gifts for their children without actually checking up on what it is." Keith Wilson reminded us, "And the age limit of 16 won't put them off – how many parents buy their kids 18 certificate movies?"

The planned marketing campaign did not stop with colourful packaging. Spearheading the campaign was Nick Teen, the smoking sheep. In a series of spin off computer games downloadable from the MyCig website, Nick would battle various foes such as "Alcohol" "Being Uncool," and "The Evil Nicotine Patch"

However, with the findings of the group that cigarettes could potentially damage the health of their users Marlboro has taken the decision to cancel the program. Many cynics believe this is not due to any moral concern, but because the life expectancy of an 8 year old smoker is estimated at 35. Compared to a 55 year life expectancy for a 18 year old smoker this would cut 10 years off of potential revenue.