British Public Vote for Charles to Marry Keira Knightley - February 13th 2005
Prince Charles' plans to get married again were shared by the British public who, in a referendum carried out by the Government, have voted 57% in favour that the heir to the throne should tie the knot again. However, whilst the public were in favour of a royal wedding, they were not in favour of the Prince's personal choice of wife.

Prince Charles had announced he wanted to marry Camilla Parker Bowles – whom he has controversially been courting for the past 40 years – however the public were not in favour of his choice saying that they would much prefer that his wed rising Hollywood star Keira Knightley.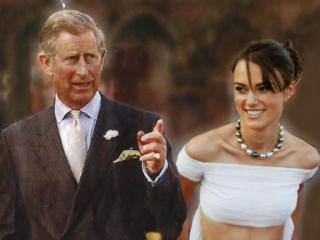 Forget Brad and Jen, or Posh and Becks, THIS is the celebrity couple the world wants to see.
Keira Knightley, who turns 20 in March, is barely a third of Charles's age however her recent rise to Hollywood stardom has made her popularity amongst key demographics soar. 2004 saw the girl's name 'Keira' rise significantly for new born babies.

"When I heard Charles wanted to get married I was naturally delighted," British resident Keith Wilson informed us, "However when I heard he wanted to marry Camilla, well that was a bit of a downer. I mean, we've all seen photos of the Queen of Jordan and she's damn fine. Now I hear that our Queen was pretty hot when she was crowned but now she's 80 she's not going to be put up on quite so many young men's bed room walls.

"Our only chance for a hot Queen of Britain in the near future comes from Charles' future wife. And frankly Camilla doesn't make the cut. That's why I voted that he marry Keira Knightley – she's 20 and regularly gets voted the sexiest woman in the world, or at least in the top 10.

"To be quite frank she would blow the Queen of Jordan away. Oh sorry, I didn't mean it like that.. although, what an image! Excuse me."

Keira Knightley announced she is over the moon on hearing the news, quashing the rumours that her initial reaction was "I'm not marrying that old big earred pauper" - although whether this announcement was affected by the news she would be beheaded for treason if she refused to marry the prince is unknown.

Whilst Prince Charles has yet to give any formal response to the public's decision a royal spokesperson has said he has been walking around with a huge grin on his face ever since her returned from Prince William's bedroom 'to find out who exactly this Knightley woman is.'