Ban on Hunting With Dogs Sees Huge Increase in Hunting With Cats - February 17th 2005
Following the passing of the law that sees Hunting with Dogs banned this Friday, the Countryside Alliance has reported that its hunting clubs has seen a massive increase in Hunting with Cats during the transition period.

"Before all this nonsense about fox hunting hit the headlines, it was very rare for people to go hunting with cats," Countryside Alliance spokesperson Keith Wilson declared, "However, with the unfortunate fact that Hunting with Dogs is to become illegal this Friday many of our members have decided to investigate alternative fox killing methods that are not banned by the law."

Hunting with cats is the favourite alternative Mr Wilson reports, with nearly 45% of former dog users now taking an army of Tom cats to hunt down the foxes. The feedback on their effectiveness was mixed. Some users reported that whilst the cats didn't catch many foxes they did keep their lap warm whilst they rode around on the horses whilst others complained that after chasing a fox for a good 15 minutes most the cats stopped for no reason at all and proceeded to wash themselves.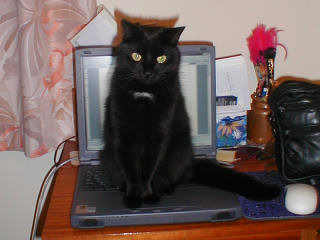 Whilst many cats are natural killers and a harm to wildlife - this one is not.
Hunting with cats has not been the only alternative used as a method of fox killing. One dedicated fox hunter developed a system inspired by the movie Swordfish. He bought a large pack of radio frequency dog collars and attached them to a pack of foxes. As soon as they moved more than 10 metres away from the transmitter, the collar triggered an explosive – decimating the fox into hundreds of small pieces.

One man was going to attempt to be ironic – and hunt foxes with foxes. Unfortunately he was informed that this would still be considered illegal as the laws technically classified a fox as a type of dog.

However, despite attempts to investigate loopholes in the planned legislation, majority of the members of the Fox Killing Association say they will continue to hunt with dogs, regardless of what the law says. They insist there are just too many foxes in the wild who are not experience pain for their pleasure.

"To be honest," Chuck Hankman, a proud member of the F.K.A, told us, "The alternative methods of controlling fox population just don't work for me. At the end of the day – foxes have to die. But what is the point in snaring them? Or poisoning them? I mean, if the fox is going to die, I may as well get some pleasure out of it – otherwise the fox has died for nothing than to save a few chickens that were going to die anyway."