Non Pornographic Site Listed On Search Engine for Pornographic Search Query - September 19th 2003
In a reversal of the typical Internet trends, Random Perspective has made history by becoming the first Internet website that does not feature pornography to be receive a top ten search position for a Pornographic Search Query on a major Internet Search Engine.

The Pornographic Search Query in question, or PSQs as they are referred to by the major Universities investing millions of dollars in the study of them, is Britney Spears Naked. The search engine is Google, one of the worlds most widely used search engines, particularly by those using PSQs as they heard it had the best penetrative abilities.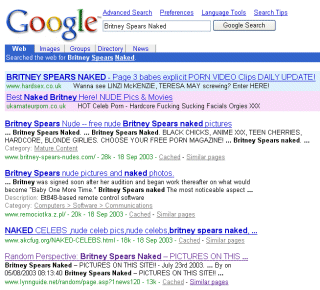 Random Perspective has made Internet History by appearing 4th on Google for 'Britney Spears Naked'
Researchers have pointed out that it is usual for large numbers of pornographic sites to be listed highly when web users make a OSQ (Other Search Query) – the fact that Random Perspective has done the opposite has been described as: "Quite Frankly Remarkable" by all of the world's leading PSQ researchers.

Professor Keith Wilson, a scientist who has dedicated the past 40 years researching PSQs at Cambridge University couldn't stress the significance:

"Not since HTML was first invented have we seen a website without pornography feature so highly when the word 'Naked' was contained in the search string.

"The reason that Pornographic websites feature so highly when a user makes a OSQ is due to the history of the HTML language. Not many people realise this but HTML was invented so scientists could store their copies of Playboy electronically and thus avoid the embarrassment of it falling out of your satchel in the middle of a busy bus.

"It's unfortunate, but it has meant the foundations of the Internet really lie in Pornography – and that only serves to make Random Perspective's achievement even greater."