Flour-Filled Condom Attack "The New September 11th" Declares Press - May 20th 2004
The Press has declared that the flour-filled condom attack on Mr Blair in the Houses of Parliament has become the "new September 11th".

September 11th went down in history not only as a terrible tragedy, but also for the impact it had on the world's media. TV Channels shut down regular broadcasting, for a brief period porn was relegated to 2nd place as the most popular search query on the Internet and the British Tabloids moved their topless models to Page 5. Analysts predicted such a reaction would never be witnessed again.

Some events came close – the bomb in Bali, the Madrid train attacks – but no matter how terrible the events were they were too traditional. The terrorists were just doing the same old thing of planting bombs and killing a large number of people. A five-minute slot in the evening news at most followed by a few snippets of world leaders declaring their condolences.

However, when the cloud of purple flour erupted around the British Prime Minister the press had come across an unusual story of significant magnitude to repeat the September 11th reaction. The British Prime Minister had been attacked -with a condom - in the heart of parliament; how much better could you get than that?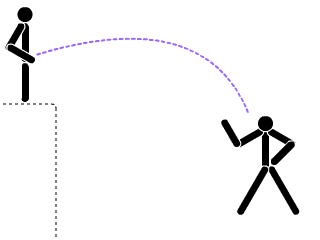 Diagrams like this published in the tabloids to explain how the attack happened appeared to show someone urinating on Mr Blair