Microsoft Promises Xbox 360 Hardware Supports More Sophisticated "Blue Screen of Death" Than Playstation 3 - May 17th 2005
Following the successful unveiling of Sony's Playstation 3 games console, Microsoft has released information assuring the public that the hardware in their new rival console, the Xbox 360, can handle a far more graphically sophisticated "blue screen of death."

"Sure, the Playstation 3 is impressive," Microsoft developer Chuck Hankman revealed, "But I don't think that Sony truly understand what the gamers want."

Mr Hankman went on to explain that Microsoft learned from its Windows 95 days that the thing that irritated users the most with its operating system was the basic blue screen that appeared whenever the machine crashed.

"It wasn't exactly pretty, was it?" he asked rhetorically.

As a result, Microsoft has invested heavily in ensuring they don't repeat the same mistakes again. The net result is the most graphically advanced blue crash screen ever seen in a Microsoft product: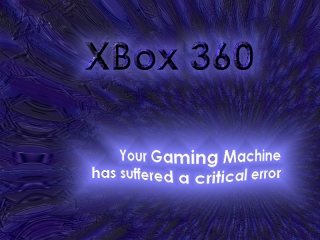 It took 15 programmers 18 months to develop a blue screen of death as awesome as this.
Hankman's feeling was that Sony wouldn't have an answer for it. He claimed that when testing the next blue screen against the old one, there was a 25% reduction in the game testers' anger that they game had terminated for no reason.

Whilst Sony did not reveal exactly what sort of blue screen of death their machine could support, they insisted they were certain it would be far more powerful than Microsoft's efforts.

Critics of Microsoft have suggested that the company should have invested money in stopping the machine from being so prone to crashing rather than developing a pointless 3D, graphically intensive blue screen however Hankman was quick to dispute these ideas:

"Whilst we are certainly in a revolution of processing power and graphical intensity, the fact is the game play in modern games titles is becoming formulaic and repetitive. Sure, the crowbar might look more like a crowbar, or the zombie might fall down the stairs a little more realistically but where's the surprise, where's the change?

"However, having the game suddenly quit for no reason when you go through a door after spending 15 minutes duking it out with an army of alien monsters and having to do it all again? The frustration that single crash creates is ten times the emotive power most modern games muster from start to finish."