Whale Unhappy About Congestion Charge Fine - January 21st 2006
A bottle-nose whale who accidentally got lost in the centre of London after swimming up the river Thames has expressed his anger to be hit with a £50 fine for failing to pay his Congestion Charges.

"This is completely unfair," The whale, who requested to remain anonymous, complained, "I had no idea I was heading into a congestion charge zone, I don't live in these parts – we don't even have congestion charges where I live."

Despite the animal's protests the London authorities explained that ignorance was no excuse – regardless of your age, gender, nationality or species. They explained that the whale had plenty of opportunity to turn around before entering the congestion charge zone but seemed adamant on getting a first hand sighting of the Houses of Parliament and the London Eye.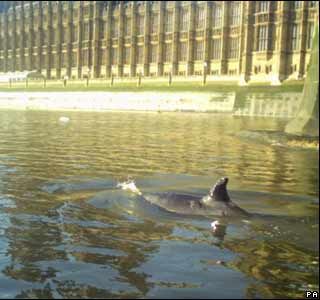 The whale waited in line for 3 hours to get on the London Eye only to find he had left his wallet at home.
Animal Rights protesters were unusually supportive of the authorities, Their spokesperson – Keith Wilson – was happy to point out why:

"For years we have been campaigning for equal rights for animals – we don't believe that testing should be conducted on them, we don't believe that killing an innocent animal should be allowed and therefore – by default – we believe that this whale should receive his £50 penalty fine."

This stance has surprised many observers, as well as the whale whose only response was something about the only way he'd get their sympathy was to dress up like a fox and stand in a field in Norfolk.

Keith Wilson was quick to justify his position.

"I have checked with the London authorities and in the 3 years that the congestion charge has been running there have been no previous cases of whales failing to pay their tolls on time. This only goes to prove that this whale is an exception to that rule and has no excuse for failing to do so.

"Also, I understand that not only did the whale enter the congestion charging zone, he received a free breakdown recovery service in order to help him get back home. If people fail to pay their charges who does he think is going to pay for these services? No, I am prepared to help innocent animals but this one is quite clearly the type who freeloads off of his parents and then complains to the world that life's unfair."


Editor's note: This story was written before the unfortunate death of the whale involved in the incident that this story was based on. I did debate taking the story down, however I feel that it serves as a memory to the event and will remind people of it once it has faded from the headlines.