Obama Considering Deploying Peace-keeping Troops to NBC - January 16th 2010
President Obama has called an emergency meeting of his Cabinet following the escalating situation at NBC between talk show hosts Jay Leno and Conan O'Brien. The dispute began earlier this week when it was reported at Jay Leno had illegally seized control of Conan O'Brien's airtime slot at 11:35pm. In response to the takeover many celebrities instantly imposed sanctions upon Leno and released statements criticising his move.

However, despite Leno's overwhelming power, O'Brien has refused to go quietly and has retaliated with comments that have garnered him much support amongst the American people. Consequently public pressure has forced President Obama to look at the option of military intervention to prevent any further escalation of the conflict.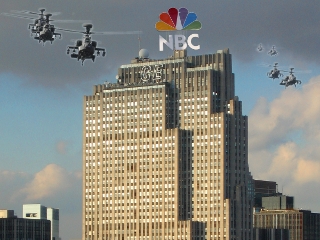 At the moment a fleet of Apache Gunships stand poised outside the NBC headquarters ready to strike on President Obama's command.
Political Commentator Chuck Hankman was critical over the chain of events that led to the uprising:

"At the end of the day this was always going to happen," He explained to us in an exclusive interview, "It has been the product of a history of bad policy by successive NBC Presidents culminating in the ludicrous notion that a talk show could compete with prime time TV shows in the 10pm slot. It was always going to lead to this."

Meanwhile, with the borders closed and communications blocked at NBC Studios we were forced to send reporter Keith Wilson into the warzone and transmit his findings back to us via a secret satellite link up.

"The scenes are unbelievable here," His cold, humourless voice announced, "I am in the lobby of the studio of The Jay Leno Show where supporters of the Tonight Show with Conan O'Brien have broken past security and are wreaking havoc. They are mostly young men in their late twenties shouting 'Death to Leno, Death to Leno' very loudly and waving their fists in the air.

"Oh no!" He suddenly exclaimed, "They are heading over to a statue of Jay Leno in the lobby. They have ropes... They are pulling the statue down, they are pulling the statue down!

"For budgetary reasons we cannot bring you photographic evidence of this event but it is totally unbelievable. Hang on! What's this... now they are attacking it with their shoes – I have never seen anything like this, they are attacking the statue with their shoes, hammering it with complete disgust. If only you could see it for yourself."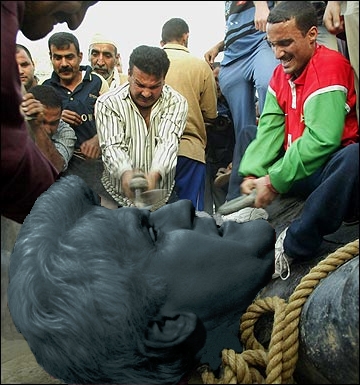 Supporters of Conan O'Brien could not hold back their anger even after toppling the giant statue of Jay Leno that dominated the foyer to the NBC Studio
Meanwhile, undercover reporter Dennis Bock broke into Jay Leno's house with a camera crew to see if the talk show host could be found in hiding there. He was shocked with what he found:

"You would not believe the opulence of this place," he said, shaking his head with disapproval, "Whilst his camera crew and makeup artists were struggling to get by on meagre salaries of maybe $40,000 a year Jay Leno was sitting here in his mansion with hundreds of sports cars and supercars. It is impossible to convey the opulence to the ordinary person, it is just so opulent in here."

Chuck Hankman, though, was apathetic about the whole situation:

"In the past we thought that Jay Leno was ok, that he was a funny sort of guy. Then along came Conan O'Brien and we thought the same thing. The fact is though we have let both have a go and the fact is neither is really as funny as we used to think. And it's not as if the people care who they get, there will be just as much anger with whoever ends up appointed – we should have never interfered with it in the first place."