UKIP Set Up "Xenophobes Anonymous" For Former BNP Voters - January 17th 2010
The United Kingdom Independence Party has set up a support group for former members of the British National Party in an effort to increase their membership. The support group, called "Xenophobes Anonymous" is designed to appeal to people who have left the BNP because they feel it is a little bit too racist for them.

The BNP, who has attracted a lot of attention in 2009 by winning two seats in the European Parliament and by being invited to participate in the BBC's Question Time program, refused to comment on the formation of the support group but said that it was every Briton's right to choose how racist or intolerant they wished to be.

UKIP, however, disagreed with that statement claiming that whilst xenophobia was acceptable in some circumstances that it should be taken in moderation. The explained that their support group would help members come to terms with their racism and teach them when the use of racism was appropriate – such as against other people of the same skin colour as you.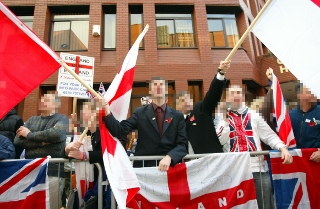 These potential members for UKIP's Xenophobe's Anonymous have had to censored as they exceed the recommended European Standards for ugliness.
Former UKIP leader, Nigel Farage, also announced that his party was calling for a total ban in the United Kingdom to prevent people from wearing Burkas, a form of dress used by some of the more conservatively-practicing Muslims, .

"Quite clearly, banning of form of dress does in no way violate freedom of expression," Nigel Farage explained, "And after all, shops have banned people from wearing hoodies – just think how many CDs and Blu-rays you could sneak out of HMV in a Burka."

Asked whether people would be allowed to wear Burkas in their own home, or on the movie set if they were portraying a woman in a Burka, or if televising images of BBC reporter John Simpson wearing a Burka undercover in Afghanistan would be acceptable, Nigel Farage said it was not appropriate to get bogged down in the details.

When pressed on the issue of whether changing the law to ban clothing types on social grounds could equally lead to enforcing dress wear for the same reason – for example, forcing all members of a certain religion to wear a white arm band with a crescent on it so they could easily be identifiable, Nigel Farage refused to comment.

"Even though there is only statistical evidence to contradict this viewpoint," A UKIP representative informed us, "The tabloid newspapers consistently tell us that immigrants of all denominations are getting preferential treatment over the indigenous population and this evidence that we cannot ignore."

Many Facebook groups have supported Nigel Farage's initiative, particularly the group: "WEN U R IN ENGLAND SPEEK ENGLISH" which released the following statement:

"WE R FED UP WIV ALL THEES FORRINNERS COMING OVER HEAR AND PROTESTING OUR TROUPS AND WERING THERE CLOTHES SO WE CARNT SEE THERE FACES. THEIR SHULD BE LEGISLASHUN 2 STOP THIS AND MOAST OF ALL THAY SHULD SPEEK ENGLISH"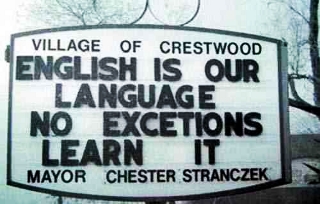 Many towns and villages decide to lead by example to get their message across.
When asked if they saw the irony in belonging to a group that promotes the speaking of English releasing a statement that was almost incoherent the group's spokesperson simply replied: "i am fucking fed up wiv all these spellimg and grammer nazis"

Whilst the level of support for UKIP's initiative amongst the UK population as a whole is not known, there have been some hope amongst some people that if made law that the legislation could be extended to include a ban on N-Dubz band member Dappy's collection of hats.