Congress demands for the Aircraft Carrier, USS Great Briton, to be recalled from the Middle East - July 13th 2003
Congress has requested that George Bush call back the popular Aircraft Carrier, the USS Great Britain, from the Middle East. The request comes as many Americans have expressed their discomfort at the ship's location.

"Many Americans are feeling uneasy with Great Britain's location, in the Middle East." A spokesperson announced, "Whilst the vessel is stationed there many Americans have been forced to abandon trips away to resorts such as London and Scotland. Congress therefore asks the President to order the vessel back to US waters so our citizens can once again enjoy their holidays abroad."

Unfortunately, further concerns arose when the commander of the Great Britain, Captain Tony Blair, expressed confusion at the exact location of his vessel.

"I don't know what exactly Congress is asking for, but as far as I am aware Great Britain is not in the Middle East."

People demanded that the President issue a special order to remove Captain Blair from power – especially when it emerged he had no naval experience whatsoever:

"What is the military playing at?" Keith Wilson, who described himself as a 'typical' US citizen, "How can they justify putting people in command of Military naval vessels when they not only have no military experience at sea – they have no experience at working onboard a ship full stop.

"Having reviewed the personnel files, the only suitable candidate for command of the vessel is the second in command – Commander John Prescott – at least he worked onboard a cross channel ferry, although I have no idea what channel the ferry was crossing."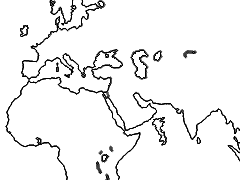 It is unknown exactly how long the USS Great Britain has been stationed in the Middle East, but this map definitely shows its location.
The President said he had never been aware of the Great Britain's location, but still insisted that he couldn't remember ordering it to the Middle East. However, people insisted it was there, as they had always wanted to go on holiday there, but under the current circumstances could never travel to the Middle East.

The national debate over The Great Britain's location has raised many new worries concerning the national teaching standards in Geography. Whilst the majority of children who received help from their parents correctly identified its location as being in the Middle East, there was a worrying proportion who believed the vessel to be located in North West Europe.

The President quickly responded to these concerns explaining that confusion had arisen because during the Cold War, the aircraft carrier would have probably been stationed in Europe to protect the West from the Iron Curtain.

George Bush explained that with a more amicable relationship now existing between the United States and Russia there was no need to station the aircraft carrier there, and was therefore certain that Great Britain was definitely not in Europe.