Iain Duncan-Smith shows off New Tattoo - January 29th 2003
Iain Duncan-Smith has continued in his trend to look "more hip" and appeal to the younger generation by getting a tattoo. Most people expected it to be a small armband, or a discreet one on the back but the leader of the opposition has surprised everyone by getting a large tattoo across his forehead: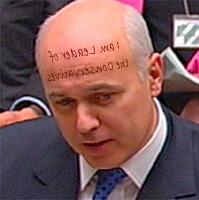 In an effort to impress younger voters, Iain Duncan-Smith has got a tattoo across his forehead.
Most have dismissed the tattoo as an 'over the top attempt' to appeal to audiences who would not normally vote Conservative, dismissing the tattoo as "a load of pointless markings."

However, after an analysis of the photograph we can reveal the real reason for the tattoo. For when Mr Duncan Smith looks in the mirror, he gets a unique view of the tattoo not normally seen by the rest of the world: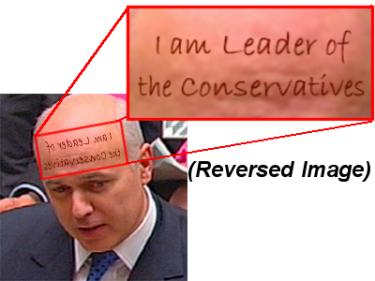 The real reason Iain Duncan-Smith got a new Tattoo...