Disney To Revert Back To Stick Men For Next Movie - February 18th 2004
Disney, the world's most famous children's animation producer, has announced that for its next film will no longer be produced using CGI following its split with long time partner Pixar. The split represents the end of one of the most successful partnerships in recent years, with each film from Toy Story to Finding Nemo becoming a huge success.

Disney's next film will therefore be a back to basics hand drawn affair, featuring the artistic talents of Disney's latest recruits: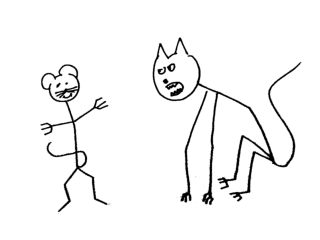 Disney's future productions will adopt a new style, following its split with Pixar.
Whilst the appearance of the animation is somewhat primitive compared to the visual extravaganzas of Monsters Inc and Finding Nemo, Disney assures sceptics it has intended to go for the 'Retro Look'

"It's something we've been working on very hard," Lead Animator Chuck Hankman explained, "We feel that the modern kids will really dig the old fashioned look. It may be basic; it might not be all singing, all dancing colour with in your face 3d shadows – but it's quality. You look at this picture of a mouse and it just oozes quality at you.

"Or is it cat?"

With Pixar out of the picture, Disney is keen to maintain its position at the forefront of children's animation. It feels it is important to not to lose the niche it had, even if elements have changed:

"Ok, our visual style has changed, but they only did the computing – I think." Lead scriptwriter Keith Wilson. "I mean its not like they did any of the script writing – or coming up with the concepts. At least I don't think they did. Besides, we've got a great new angle for our next feature film. It's going to feature a cat and a mouse who are always fighting but never actually end up killing each other. I think it's bound to be a format for success."