Bush can Name All Enemy Nations – but can he spell them? - March 5th 2003
George W. Bush astounded those who criticise his international ignorance by stating he can name all the countries he deems to be a threat to American Security.

"I surprised you all. Don't you remember in my first month of office when I declared that China was our biggest threat! I bet that surprised you. It's a real country, not some made up one or a lesser known state capital." George Bush told us in an exclusive interview.

"Now I've been after Afghanistan – and let me tell you that it's entirely coincidental that it happens to be the first country when listed alphabetically. I did not just go to the CIA World Factbook website and choose the first foreign nation on the list to invade. Oh no."

"Now let me see we're going after Iraq, Iran, Syria. Maybe even Yemen That's 6 nations I've listed correctly. You see, I'm not as ignorant as people try to make me out to be."

So then came the test, could he actually spell the nations he'd listed?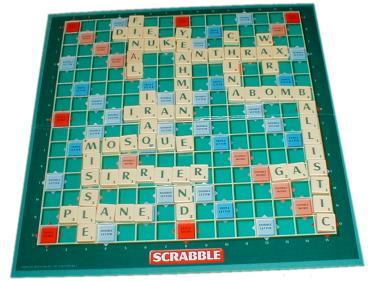 George W. Bush regularly wins the White House's scrabble tournaments. Particualrly when playing "War-Themed" Scrabble
"Ok. Well China is easy. But that's because it's written on the side of this pen see. 'Made in China' So C-H-I-N-A"

"Afghanistan? Well I'm not going to even try to spell that one. Not because I don't know it but because we're in the middle of rebranding it, giving it a new name. Something like Starbucks or Microsoft. Only more Foreign."

"Iraq. Now that's a tricky one. But I remember it, as it's a good word in Scrabble. Which means it's got a Q or a Z in it. Something tells me it's not a Z. "Zee" sounds more European so I'll go with Q. I-R-A-Q."

"Iran. Now, my dad told me to remember this one as something that I do that most American's don't. Let me see. I-BOMB? Oh no, I remember I-RAN. I-R-A-N."

"Syria. Sorry. I haven't a clue."

"Yemen. Y-E-A-H-M-A-N. Good Old American Saying that."

"How did I do?"