Bush and Blair Slip Laxative into French Representative's Drink - March 5th 2003
In a last attempt to stop the French from using their Veto at the UN Security Council's vote on Iraq George W. Bush and Tony Blair slipped a laxative into the French Representative's drink minutes before the voting took place.

Just as the voting was about to start, the French Representative suddenly jolted forwards and ran out of the room screaming French Words that cannot be translated for this website. This was much to the amusement of President Bush and Prime Minister Blair: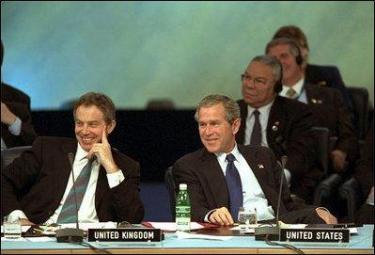 The reaction of George W. Bush and Tony Blair after the French Minister started to feel ill at the United Nations.
Unfortunately, they were too busy laughing at the incident that they too missed the vote and as a result the motion was abstained.