Tony Blair Fires Clare Short... At Iraq - March 12th 2003
Following Clare Short's attack on the Government's stance towards Iraq Tony Blair has taken the radical step of firing her there.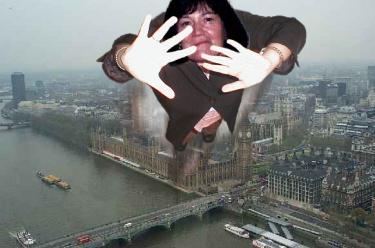 Clare Short was fired from the Government (at Saddam Hussein) following her anti war stance on Iraq.
She was shot from an artillery cannon at mid-day and her journey is expected to take roughly 7 hours. During the flight Clare Short will be refuelled twice by an airborne refuelling place. Apparently this was against her wishes due to the quality of airline meals.

Tony Blair was quick to justify his actions:
"We need consistency within our cabinet. And the actions of some individuals are just not consistent enough. Therefore to improve consistency I have decided to use Clare Short for testing our new defensive program: We intend to fire all political ministers that object to the war on Iraq at Baghdad once military action begins."

The list of ministers is not clear although it is likely to include Charles Kennedy, Andy Reed and John Prescott.

When questioned about John Prescott's inclusion on the list given that he has not publicly objected or given any hint he objects to military action Blair explained:

"Would you really want Mr Prescott coming through your roof at 1000mph?"

The precise target chosen for this attack is unknown, but it is expected that Saddam Hussein will probably retaliate by firing one of his political party, Most likely a minister acquired from the Conservate Party in the 1980s.