Osama Bin Laden Streaks through Washington DC - March 10th 2003
In a further effort to terrorise the people of the United States Osama Bin Laden embarked on a fully naked streak through the US Capital, Washington DC.

However, his efforts went unrewarded as most simply ignored him assuming him to be part of a television stunt, drunk or both.

The few that did stop to wonder were still completely oblivious as to what he was:

"That naked guy, he reminds me someone…" one observer told us, "I can't think who though."

When we prompted: "Osama Bin Laden?"

"Ozzerman who? No no. I think I might be getting him mixed up with the aliens in Mars Attacks."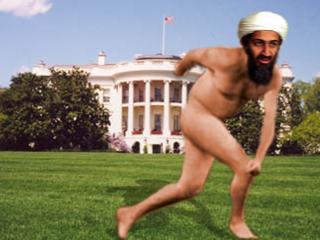 George W. Bush took no notice of Bin Laden's terrorist antics until they began to annoy him.
After terrorising the general population Osama Bin Laden turned his attention to the Whitehouse, considered by many to be the target of the 4th plane during the September 11th attacks.

After jumping the fence and running around on the lawn for 10 minutes George Bush came out shaking his fist shouting:
"Get off of my property."

When Bin Laden refused Bush contacted the local police who arrested him and released him on caution.

It seems now that Osama Bin Laden, formerly the World's Most Wanted Man, can do nothing to excite George Bush anymore.