Spider: "My Image was used without my permission" - April 1st 2003
A Spider is taking the makers of a documentary series about the common household spider to court following a lengthy appearance featuring him was broadcast without his consent.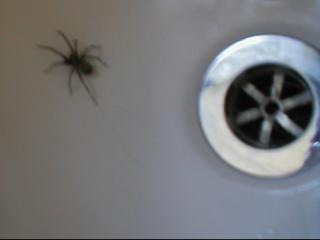 Live Action Footage of the Spider in a household bath was broadcast without his permission.
"It's a flagrant violation of my human rights." The spider explained in an exclusive interview, "First they spied on me, recording my movements for a 24 hour period and then they broadcasted some of that footage on Television without asking my permission."

"But you're a spider," Our interviewer explained, "Surely human rights do not apply to you."

"That's an extremely fascist viewpoint." The spider retorted, "It's not my fault I'm just a spider… I was born that way. You're discriminating against me for something that is out of my control."

In response to the Spider's claims, the documentary crew are urging the owners of the household to sue to the spider for Trespassing, and/or breaking and entering.

"It is believed that the Spider's gained access to the house after his web caused a ventilation fan to clog up." The film crew told us, "This is damaging the home owner's property and as the home owner had not given him permission to enter his home it is clearly a case of breaking and entering."

After hearing this news the spider has made the shock announcement that he is, in fact, an illegal immigrant. Apparently he hid in some Tesco grapes to gain access to the United Kingdom. Once his court case has been settled he intends to claim asylum.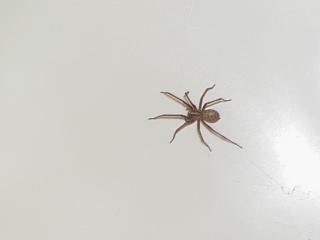 The Spider now claims to be an Illegal Immigrant (Please Note, this photograph was taken with the spider's permission)
"The US Government is persecuting spiders. We're being targeted like vermin. If I get sent back there I would almost certainly be going back to my grave."