Historians Discover that Cavemen Invented Satire - May 14th 2003
After weeks of excavating a recently discovered Cave Dwelling, which is believed to have been used by Cavemen nearly 10,000 years ago Historians have discovered what they believe to be some form of Caveman Satire. If found to be true, it could prove to finally answer the question of who invented satire – dispelling popular theories that it was either Lucilius or The Onion.

"Look here." the archaeologist showed us some photographs from inside the tomb, "See these pictures."

He shows us a photograph with 4 caveman drawings on it. The first drawing is a picture of a man observing a forest fire. The second picture shows the man trying to create fire. The third picture shows the man running around on fire and the final picture shows the man dead: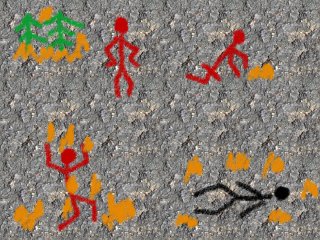 The photograph of the caveman satirizing the invention of fire.
"We believe that this was written when fire had just been invented. In modern tongue its headline would probably be something like: 'Man invents fire and crematorium at the same time.'

"Ok, it's not that funny but at the time this would have been revolutionary humour."

Another example they believe to be caveman satire is: "Man thinks that banging rocks helps him relax." Signalising the invention of music, and "Big Caveman tells Little Caveman not to Develop Axe or Spear."

However, scientists researching the disappearance of the dinosaurs dispute the claim that the cavemen invented satire. Apparently they believe that one Dinosaur is thought to have joked:

"Meteor of Doom More Dangerous to Stegosaurs than Tyrannosaurus Rex!"