Captain Scarlet To Become New MI6 Chief - May 6th 2004
The Government has announced their intention to install the legendary children's TV character Captain Scarlet as the new chief of Britain's intelligence service MI6. The decision has received strong opposition from both the Liberal Democrats and the Conservative Party who branded it 'highly controversial' and 'inappropriate'.

The decision was defended by the Government; they explained they feel that Captain Scarlet is the ideal person to fill the position, of which the main responsibility would be the defence of the country against international terrorism.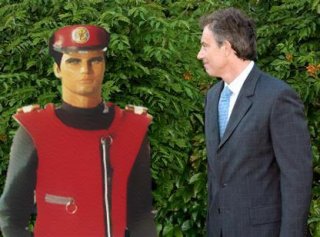 Prime Minister Tony Blair meets the new head of MI6 - Captain Scarlet.
The Government highlighted Captain Scarlet's extraordinary talents in dealing with the Mysterons, a hostile race of aliens from Mars and pointed out that their powers were far superior to Al Qaeda's, especially when you considered they operated all the way from Mars.

"The Mysterons are incredibly powerful," spokesperson Keith Wilson explained, "They can replace any person they like with an exact duplicate who is evil and will do their doing. They'll look identical, sound identical, but their personality will suddenly change without warning – if that happens it's a sure sign they've been taken over by the Mysterons."

It turns out Mr Blair was initially against the appointment of Captain Scarlet when he was first considered for the position at the start of Labour's first year in office back in 1997. However along with his change in opinions on the referendum for the European Constitution and the U-turn made on tuition fees, Mr Blair suddenly changed his mind and the appointment was made.

"As far as we know, Al Qaeda do not have the facilities to replace people with evil duplicates." Keith Wilson assured the public, "But if they did people should remember that Captain Scarlet is indestructible. The Labour Party feels having an indestructible head of Britain's secret service is a significant opportunity we should not waste."

However, the Conservatives are not convinced, they claim that Scarlet was responsible for compiling the dossier used to build the case for war against Iraq and therefore is an unsuitable candidate:

"Captain Scarlet's association with the Labour Party goes back far it would seem," claimed Michael Howard, "The last thing this country needs is for the Government to install a puppet leader as head of its secret services"