Liberals Would Rather Saddam Hussein Receive Death Penalty Through a Fair Trial - July 1st 2004
Following the start of the trial of former Iraqi President, Saddam Hussein, critics have voiced their opinion that the former dictator is unlikely to receive the Death Penalty fairly as he is being tried by his own people, who are more likely to use the trial to get revenge for the genocide, torture, poverty, war and exploitation their endured under his regime. Those criticising have stated that the United States should allow the Dictator to receive the Death Penalty through an objective court, who has not suffered under the dictator's hands.

"The idea that Saddam Hussein will receive the Death Penalty from the Iraqi people is a complete malpractice of justice," legal expert Keith Wilson explained, "Saddam Hussein should be handed his Death Penalty from a completely neutral party. Even if he gets tried in the Hague he'll end up hanging from the ceiling of his cell in the first week of his life imprisonment. I mean, what's he got to look forward to if he got released – can you really imagine him serving fries at McDonalds?"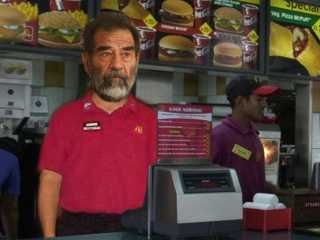 People think it is unlikely Saddam Hussein could work at McDonalds if he is released.
Saddam Hussein has so far insisted he is still President of Iraq and that George Bush is the real criminal. Liberals have also attacked the court has so far failed to see whether George Bush has an alibi for the crimes committed. Republican supporter Chuck Hankman was quick to criticise this attack:

"It is absolutely ridiculous for those Lefty Liberals to start suggesting Saddam's defence be taken seriously. Whatever next? They'll probably start accusing his dad of enabling Hussein to use chemical weapons next…."

One of the other major criticisms of the handling of Saddam Hussein's imprisonment and trial is the Iraqi dictator's frail appearance. The former President appears to have lost a lot of weight leading to speculation he had not been treated properly by his American captors. The US Government was quick to dismiss these theories:

"Have you not seen Saddam Hussein's new stylish beard?" Donald Rumsfeld pointed out, "When we dragged him out of that whole and our troops took their holiday snaps with him you could clearly see a beard that had suffered several weeks at the hands of a belligerent, inhumane stylist. Whilst in our custody we have gone to such great lengths to ensure Saddam's well being we have even looked after his beard. To be honest, it looks so mean I am considered advising George to grow one for the next election."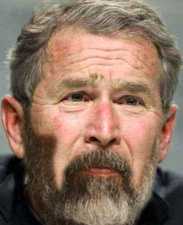 The Republicans have funded advanced computer simulations to see how George Bush's appearance would be enhanced with a beard.