Bristol Palin Tells Teens "No To Pre-marital Sex" Ė Vows To Break Other Taboos For The Good Of America - January 24th 2010
Sarah Palinís eldest daughter, Bristol, has urged Americanís to "Say No To Pre-marital Sex" in an television interview with Oprah. Bristol, who shot to fame following the revelation she was pregnant during the 2008 Presidential Campaigns was forced to admit that she had engaged in pre-marital sex herself after it became obvious that no one would believe it was a miracle conception.

"At the end of the day they were wise to not even attempt to play the virgin birth spin," Political commentator Chuck Hankman commented, "Because a virgin birth means that God knocked up you, and letís face it, if God was going to pick a Palin daughter to get busy with he would have waited for Willow Palin to become legal because she is going to be so much hotter than Bristol."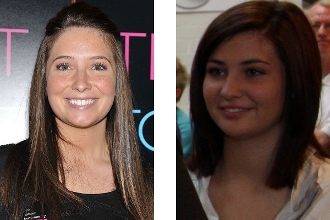 Bristol Palin is not on Hot or Not, however it has been calculated by America's finest scientists that she would score 6.8. Assuming no facially disfiguring accident in the next 4 years, once 18 years of age Willow Palin is predicted to exceed 8.5.
Bristol, meanwhile, has said that although it may appear hypocritical that she should be giving this advice having failed to adhere to it herself she pointed out that as someone who has 'been through it' it makes her far more qualified to comment on the rights and wrongs than those who have not.

"At the end of the day somebody has to do it," spokesperson Keith Wilson told reporters, "Someone has to take that bullet and try out these taboos to make sure our morals are well founded. Bristol has reported back to the Republican Party that 'yes, we are right on the whole sex before marriage stance.'"

Mr Wilson went on to explain that having proven herself to be an excellent investigator into the morals of pre-marital sex, Bristol Palin had volunteered to investigate other Republican taboos. He provided reporters with some of her summaries on various contentious issues:

"To start with I decided to experiment with Atheism," Bristol's video diary began, "However, as an Atheist that meant I didn't believe in heaven and that made me sad because without heaven there is nowhere to go when you die. Religion should not make you feel sad so I am telling America to 'Say No to Atheism'

"And while I am on the Atheism issue - say no to evolution too. I attended all sorts of lectures that apparently prove that we are descended from animals but they were complicated. Intelligent design is a much easier concept to understand, it doesn't make your head hurt like trying to understand evolution.And anything that makes your head hurt must be bad.

"Lots of Americans say we should legalise drugs like marijuana; in order to test this out I spent a weekend with Paris Hilton and took marijuana, a whole number of pills and so much cocaine you would not believe. I almost died, and if it was not for our health service I would have probably died. So saying no to drugs is definitely staying on the list.

"After the drugs incident, Mommy suggested I went over to Europe and see if their communist health care system would be able to save me from a Hilton sized overdose. So I went to France, and took all the same drugs again. They managed to save my life too, but unlike our American hospitals they all spoke French there so I could not understand them. How is that a good customer experience? Socialised Healthcare - SAY NO AMERICA!"

Bristol Palin went to switch off her video camera, before unexpectedly thrusting her hand into her face in realisation:

"Damnit," She exclaimed once she withdrew her facepalm "I totally missed my opportunity to try out an abortion."