Red Cross Determines That Captured Saddam Hussein Is A Mannequin - February 22nd 2004
Following weeks of campaigning, the International Red Cross was finally granted permission by the US Government to visit the former Iraqi Dictator to give an assessment of his health and to check he is being held to standards agreed in the Geneva Convention.

The organisation believed that the visit would be more of a formality and the intention was to make the visit more for the principle of the matter than due to genuine concern for Saddam Hussein's well being. However, after inspecting the prisoner, the medical examiners determined that the captured dictator was actually a mannequin from a local department store.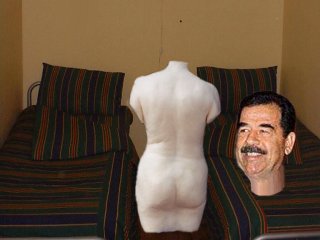 It did not take long for the Red Cross to realise the captured prisoner was a dummy.
"It does answer a lot of questions," Lieutenant Chuck Hankman, one of the US Marines responsible for tracking down the dictator explained, "I mean, he'd been on a massive hunger strike by refusing to eat any food. We wondered why he hadn't cracked after 8 weeks, or even shown any noticeably signs of losing weight.

"Plus, most people think we shaved off his beard – that's not actually true. It just peeled off. I must admit I was a bit shocked at first but I figured that maybe Iraqis just did it differently to us."

The news of the captured mannequin has spread panic through both Iraq and American, with several key world leaders questioning the training of US troops and the techniques being employed by the US when identifying their targets.

However, President Bush was quick to defend the situation claiming people should not jump the conclusion that the captured mannequin is not Saddam Hussein. The Democratic Party agreed, claiming it certainly wasn't the first time a nation had been run with a dummy in charge.